8 of Nashville's Best Breweries
Few towns know how to drink quite like Nashville, TN. We know how to have a good time with a drink in our hands. And because we know how to have a good time, Nashville has become a hub for the good-time-go-juice… beer.
Sure, you can drink your Bud Lite and Pabst. But if you want to actually enjoy the beer you drink, picking up any one of Nashville's great local beers is the right way to do it.
A lot of breweries have started popping up around town over the last few years. With that growth, it can be hard to figure out what's great amongst so many options. So if you're not quite sure what beers to pick up, you've come to the right place.
Here are some of Nashville's best breweries.
Definitely one of Nashville's most beloved breweries, if you walk in a Nashville bar that doesn't carry Yazoo, you may as well turn your ass around. Yazoo founder Linus Hall started the brewery in 2003 after interning at the Brooklyn Brewery and built the brewery from the ground up. They have so many beers to choose from and I've yet to try one I didn't like.
Recommended beers: Dos Perros, Pale Ale, Daddy-O
Crafting German lagers similar to pre-prohibition beers, Little Harpeth has a pretty small lineup of beers, but they are all delicious. Unfortunately, only two or three of their beers are commonly found in convenience and grocery stores, but their taproom offers growler fills for their full line-up. Plus, their taproom also often functions as a music venue and hosts some pretty great bands.
Recommended beers: Upstream, Chicken Scratch, Bison Bock
Probably one of Nashville's most eclectic breweries, Black Abbey makes all sorts of delicious beers in a variety of styles.
Recommended beers: The Rose, the Forty-four, the Champion
Nashville's oldest craft brewery, started in 1994, Blackstone offers up a variety of great, award-winning beers.
Recommended beers: St. Charles Porter, Chaser Pale, HopJack IPA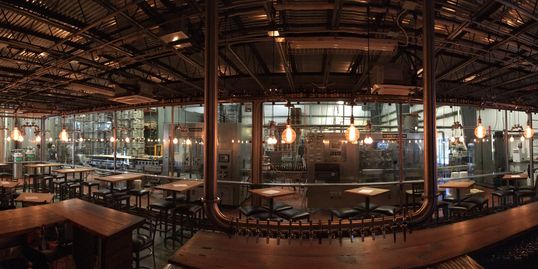 The pin-up pictures on the cans definitely drew me to this beer the first time I bought it, but it was the beer inside that kept me coming back. Opened as East Nashville's first brewery in 2012, their growing beer list is definitely worth keeping an eye on, especially their seasonal offerings.
Recommended beers: W.A.C., Ida, Ruby
Do yourself a favor and get over to the Southern Grist Brewing Company's taprooms. With two locations (one in the Nations, the other in East Nash), Southern Grist carries a wide variety of beer styles with strange, yet delicious flavor profiles. Sit back in one of their taprooms to sample some of their beers, then take a growler home to keep the party going.
Recommended beers: Loud Whispers, Lemon Meringue Pie Gose, Hoppy Timbs
From the mad scientists of Corsair distillery, comes their brewstillery. A one-stop shop for their ice cold beers and liquors. Take the tour with tastings, then sit your ass down in the taproom and sip on your favorites.
Recommended: Viking Ale, English Braggot, Coffee Doppelbock
Utilizing Tennessee ingredients whenever possible, Tennessee Brew Works makes some damn good beer. Visit their taproom and get yourself a flight of beer so you can try them all, then take a growler of your favorite home.
Recommended: Basil Ryeman, Southern Wit, State Park Blonde Ale
With so many breweries around town, there's a good chance I missed some locals' favorites. Let us know in the comments! We're always down to try new beer.
Cheers!
---